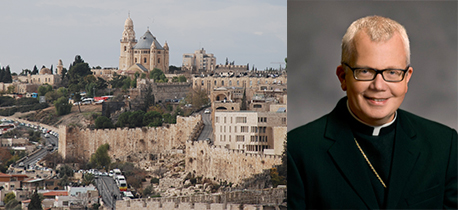 Travel on a Lenten pilgrimage with Most Reverend Donald J
. Hying (Bishop of Gary, IN) to the Holy Land.
This 2017 journey will explore the sites where Jesus was born, grew up, was crucified and then rose from the dead.   Lent…what a profound time to spend walking in the footsteps of our Lord.   March 2-12, 2017
——————————-
CLICK LINK BELOW TO VIEW BROCHURE, THEN RIGHT CLICK TO PRINT
70302 LETTER SIZE Bishop Hying HL
——————————-
Cities to be visited include:
Bethlehem (birthplace)
Caesarea (Maritime and Philippi)
Cana (location of His first miracle)
Capernaum (location of his Galilean ministry)
Jerusalem
Masada
Mt Carmel
Nazareth (location of His boyhood)
and so many other important places!
Highlights of the pilgrimage include:
Mt Tabor (site of the Transfiguration)
Mount of Beatitudes
Cave of Betrayal
Garden of Gethsemane  and Church of All Nations (location of his agony)
River Jordan
Sea of Galilee
Dead Sea (lowest spot on Earth)
Calvary
there are too many to name!