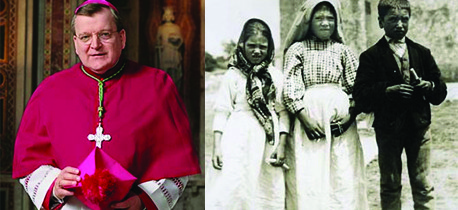 >>>>  Early registration price $1,999 + $679 per person

 

from Chicago if deposit is paid by 1-31-17   <<<<
(Base price $2,099 + $679 per person after 1-31-17)
(*Estimated Airline Taxes & Fuel Surcharges subject to increase/decrease at 30 days prior)
~~~~~~~~~~~~~
The Shrine of Our Lady of Guadalupe in LaCrosse, Wisconsin, invites you on a special 7-day anniversary pilgrimage to Fatima, Portugal. May 11-17, 2017.  The pilgrimage will be led by a Franciscan Friar of the Immaculate as Spiritual Director and joined for the centennial celebrationat the Shrine of Our Lady of Fatima by His Eminence, Raymond Cardinal Burke.
——————————-
CLICK LINK BELOW TO VIEW BROCHURE, THEN RIGHT CLICK TO PRINT
70511 LETTER SIZE Cardinal Burke Fatima
——————————-
Visit Fatima

:
Participate in 100th anniversary celebration

Cova da Iria, location of the Chapel of the Apparitions

The Basilica

Perpetual Adoration Chapel

Aljustrel, home of the Marto family and home of Lucia

Site of the apparitions of St Michael to the children

Way of the Cross
Valinhos, the site of Our Lady's fourth apparition
Parish church where the children were baptized
Candlelight Procession
Visit Alcobaca:
Monastery of Santa Maria de Alcobaça
Visit Santarem:
 Church of St. Stephen, where a Eucharistic miracle took place in the 13th century.
Visit Lisbon:
brief scenic tour of Lisbon

Visit the birthplace of St. Anthony of Padua and the church dedicated to him

Visit the Lisbon Cathedral

Visit the Basilica da Estrela

St. George Castle, Belem Tower and St. Jeronimos Monastery.
And more!